Taj Mahal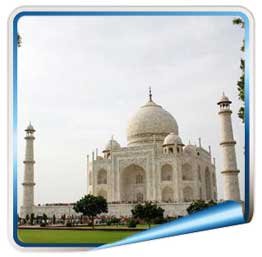 Every Tourist who visit India he / she must visit to see magnificient the TAJ-MAHAL.
This most famous Mughal monument was constructed by Emperor Shah Jahan in memory of his wife Mumtaj Mahal, It has been described as the mostextravagant monument ever built for love, for the emperor was heartbroken when Mumtaj, to whom he had been married for 17 years, died in 1631.
Construction of the Taj began in the same year and was not completed until in 1653. Workers were recruited not only from all over India but also from central Asia, and in total 20000 people worked on the building. Experts were even brought from as far away as Europe-the Frenchman Austin of Bordeaux and the Italian Veroneo of Venice had a hand in its decoration.
The Taj itself stands on a raised platform on the northern edge of the ornamental gardens. Tall, purely decorative white minarets grace each corner of the platform.

Athough the Taj is amazingly graceful from almost any angle, it's the close-up detail, which is really astounding. Semiprecious stones are inlaid into the marble in beautiful patterns and with superb craft in a process known as pietra dura. The precision and care which went into the Taj Mahal's design and construction is just as impressive whether you view it from across the river or from arm's length.