River Rafting At Rishikesh In River Ganges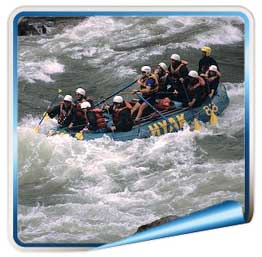 The rafting experience of the Ganges starts at a very calm pace and rafters can easily indulge in some lighthearted racing adventure. But as the rafts approach the rapids, the riders have to put all their concentration on-board and manoeuvre the oars in a programmed fashion. Then just as the rafts hit the first series of the fast-moving water, let the oars go limp and ride the waves, being tossed up and about, in return.
As the rafter faces more and more stronger rapids, his balancing skills also grow stronger. But the most surprising fact is, as the raft reaches the last signpost ahead of
Rishikesh
,

the Ganga suddenly turns calm. Riding the Ganges is an exhilarating experience and its this apparent invincible power of this river that has attracted the adventurer to the challenging sport of river rafting. Even the leading rafting experts say that Indian rivers have the potential of having some of the most exciting stretches of white water rafting in the world and the most popular river rafting choices in India are the Ganga.