Desert Camel Safari At Thar Desert In Jaisalmer (Rajasthan)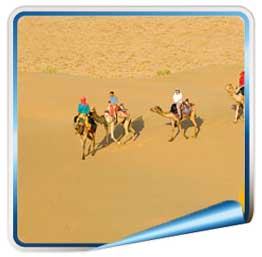 The Camel Safari at Thar Desert in Jaisalmer Rajasthan is A wonderful Experience of the life and Tourists are always enjoy very much to do the Desert Camel Safari.
We Services Travel India make it for sure that halts are arrange just out side the villages and from here you can observe life around village community. We arrange the safari in small groups. In the evening near the village at sand dunes you will spend the Night at Air-con Tents and also enjoy the Traditional Rajasthani Food with Folk Music of Rajasthan. In the Morning Time the approx. 06:30 hrs. Tourists start the Camel Safari at Thar Desert for 3 to 4 Hours.
Rajasthan offers various places for Camel Safari i.e. Bikaner, Jodhpur and many others but JAISALMER is the Best Area to Enjoy the Camel Safari.