Pushkar Fair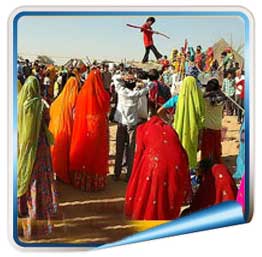 Pushkar Fair is an integral part of the state of Rajasthan. It is the most important Fair in Rajasthan and India.
The Pushkar Fair in Rajasthan takes place in a small town of
Pushkar
, located 14 kilometers off Ajmer in Rajasthan. Pushkar is ideally situated in a beautiful valley
Another integral feature of the Pushkar Fair Rajasthan is the races and competitions. The tourists can find the camels darting across the sands amidst cheers and jeers from audience. They even throw their riders on to the vast sands. The most interesting competition held here is the camel beauty contest. The camels are decorated with care and paraded. They preen before the crowds and get a lot of attention from the crowd.

Filled with fun and color, the Pushkar Fair Rajasthan is something that you can not miss during your tour to Rajasthan.