Varanasi Travel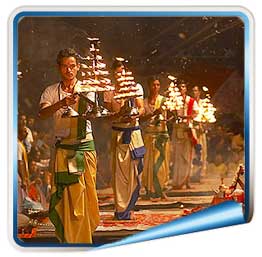 Varanasi
 is one of the oldest living cities in the world. Many names have been given to 
Varanasi
, though its recently revived official appellation is mentioned in the Mahabharata and in the Jataka tales of Buddhism. It probably derives from the two rivers that flank the city, the Varana to the north and the Asi to the south. Many still use the anglicized forms of Banaras or Benares, while pilgrims refer to it Kashi, first used three thousand years ago to describe the kingdom and the city outside which the Buddha preached his first sermon; the "City of Light" is also called Kashika, "the shining one", referring to the light of Shiva. Another epithet, Avimukta, meaning "Never Forsaken", refers to the city that Shiva never deserted, or that one should never leave. Further alternatives include Anandavana, the "forest of bliss", and Rudravasa, the place where Shiva (Rudra) resides.
While the boundary of Kashi is delimited by the circular Panchakoshi Road, 
Varanasi
 is the main city, extending from Asi Ghat and circling around to the confluence of the Ganges and the Varana. Yet a smaller area, defined as Avimukta,

starts at Kedara Ghat in the south and ends at Trilochana Ghat. Most important of all is Antargriha, the "Inner Sanctum" around the Vishwanatha Temple, which encompasses Dashashwamedha Ghat, Surya Kund, the lingam of Bharabhuta, and Manikarnika Ghat. Another, later, interpretation suggests three sectors of khandas in the form of Shiva's trident, each centered around a temple - Omkara to the north, Vishvanatha in the centre and Kendra to the south.
A city which, since it is both an exalted place of pilgrimage and a centre of faith, According to the historians, the city was founded some ten centuries before the birth of Christ. The city is mentioned in Holy Scriptures like 'Vamana Purana', Buddhist texts and in the epic 'Mahabharata'. Mark Twain,the English author and littérateur, who was enthralled by the legend and sanctity of Banaras, once wrote:"Banaras is older than history, older than tradition, older even than legend and looks twice as old as all of them put together."
Places to visit: 
Ghats of Varanasi :
You can visit the Ghats any time in the morning or evening and also can enjoy the Boat ride in Holy River Ganges.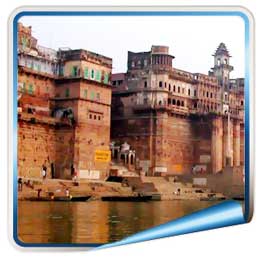 Banaras Hindu University
The Banaras Hindu University or BHU is an internationally reputed University and is situated in Varanasi. The great nationalist leader, Pandit Madan Mohan Malaviya, founded the Banaras Hindu University in the year 1916.
Chunar Fort
The Chunar fort is situated in the Vindhya Range at a distance of about 45 odd km from Varanasi. The Chunar fort is located in the Mirzapur district. According to the Puranas the oldest name of Chunar was Charanadri as Lord Vishnu.
Ramnagar Fort
The Ramnagar fort lies about 14 km. from Varanasi and is situated on the opposite bank of river Ganga. It is the ancestral home of the Maharaja of Banaras. Maharaja Balwant Singh built this fort-palace in the eighteenth century.