Khajuraho Travel
Situated in Chhatarpur District (in the heart of Central India, in the state of Madhya Pradesh), about 385 miles (620 kilometres) southeast of Delhi, the capital city of India. Khajuraho is one of the most popular tourist destinations in India. Khajuraho has the largest group of medieval Hindu temples, famous for their erotic sculpture. The name Khajuraho is derived from the Hindi word khajur meaning date palm. The fascinating temples of Khajuraho, represent the expression of a highly matured civilization. The Khajuraho group of monuments has been listed as a UNESCO World Heritage Site. An Airport has been built in This small village has an Airport, therefore, tourists can fly Delhi-Agra-Khajuraho-Delhi in a day! There are a lot of hotels in the area to stay. A few are run by foreginers. If you like handmade items then you'll enjoy shopping here as shops in Khujaraho sell a lot of handicrafts and some of them are really nice and reasonably priced.


History
: The Khajuraho temples were built over a span of a hundred years, from 950 to 1050 A.D. during the reign of Chandel Empire. The Chandela capital was moved to Mahoba after this time, but Khajuraho continued to flourish for some period of time. There were originally over 80 Hindu temples, of which only 22 now stand in a reasonable state of preservation, scattered over an area of about 8 square miles (21 km²). With the wane of the Chandela empire, these magnificent temples lay neglected, and vulnerable to the ravages of Nature. They were rediscovered during the late 19th century, restored and granted the recognition that they justly deserve.
Architecture
: The Khajuraho temples are finest example of Indian architectural genius in the Medieval period. They are constructed with spiral superstructures, adhere to northern Indian shikhara (mountain peak - refers to the rising tower in the Hindu temple architecture of North temple style and often to a Panchayatana plan or layout. (It consists of the worship of five deities: Shiva, Vishnu, Devi, Surya and Ganesha. Depending on the tradition followed by Smarta households, one of these deities is kept in the centre and the other four surround it. Worship is offered to all the deities).
About Erotic Sculptures
: The sculptures are divine in these temples, and are not only a tribute to Life but also the celrbration of woman and her myriad moods and facets. Popularly known as the 10th century temples, they represent a time frame when Khajuraho art was at its peak. Erotic visuals represent a relatively small part of the carvings and the rest depict the common man's life of those days. For example women applying makeup, musicians, potters, farmers etc. and all these are outside of the temple but sensuous eroticism prevails throughout all of the sculptures. It is assumed that the goddesses and gods represent the many manifestations of the divine Shakti and Shiva, the female and male principles, the Yin and the Yang.
One tourist from Australia remarked, " these temples depict scenes from elephant fights, mythical lions, gods, and erotic couples. In a frieze that seemed to be an exception a sodomistic scene was depicted where onlookers hold their hands in front of their eyes in disgust. The erotic scenes are sort of a 3-D rendering of the Kama Sutra book, a graphical instruction manual." Laurence Rogerson another tourist from UK says the statues and carvings cover every inch of every ceiling and wall. The erotic carvings on the temples at Khajuraho give the place it's fame. Erotic or not the level of detail is quite magnificent as these pictures clearly do show.
However, Khajuraho is a unique experience for students, historians, culture lovers, environmentalists, conservationists or anyone who is in look out for an exotic destination with varied attractions
What To See
The Khajuraho temples are grouped into three geographical divisions : eastern, western and southern.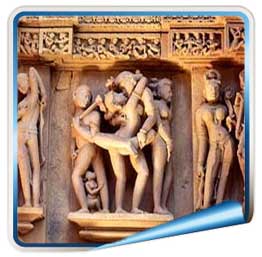 Eastern Group of Temples:
Parsvanath Temple
Ghantai Temple
Brahma Temple
Vamana Temple
Javari Temple
Western Group of Temples:
Lakhmi Temple
The Kandariya Mahadeo Temple
Devi Jagdamba Temple
Chitragupta Temple
Viswanath Temple
Southern Group of Temples:
Dulhadev Temple
Beejamandal Temple
The Archaeological Museum
 (Closed on Fridays) 
State Museum of Tribal and Folk Art
 (Closed on Mondays)
Light and Sound Show at Western group of temples.